Media Room
Media Room Design and Installation Services for Connecticut and New York Smart Homes
Your family room gone high-tech.
It's still a living space minus the annoying cable box, Blu-ray player, wires, and multiple remotes that no one really ever masters. Only you know about your behind-the-scenes automated butler that is now making your life so much sleeker and easier to manage.
In fact, when Lifetronic Systems is done installing your media-room components, friends might not even know we've been there except for your spanking new state-of-the-art smart TV. Of course, even that can be disguised behind a mirror or a motorized piece of artwork.
Speaker technology is so advanced, resulting in theater-like surround sound strategically placed around your room. Some speakers are inserted into the ceiling, angled to provide intense sound no matter where you sit in the room. We even offer invisible speakers mounted on fiber panels that completely disappear when painted or papered.
Customized Media Room Design
While the specific features of a home media room can vary based on personal preferences and budget, here are some primary features we commonly include in our clients' well-equipped media rooms:
Large Display or Projection System
This can include a high-definition television (HDTV) or a projector and projection screen that's chosen based on the room size and desired viewing experience.
Surround Sound System
A surround sound system typically includes multiple speakers strategically positioned around the room to create a multidimensional audio experience.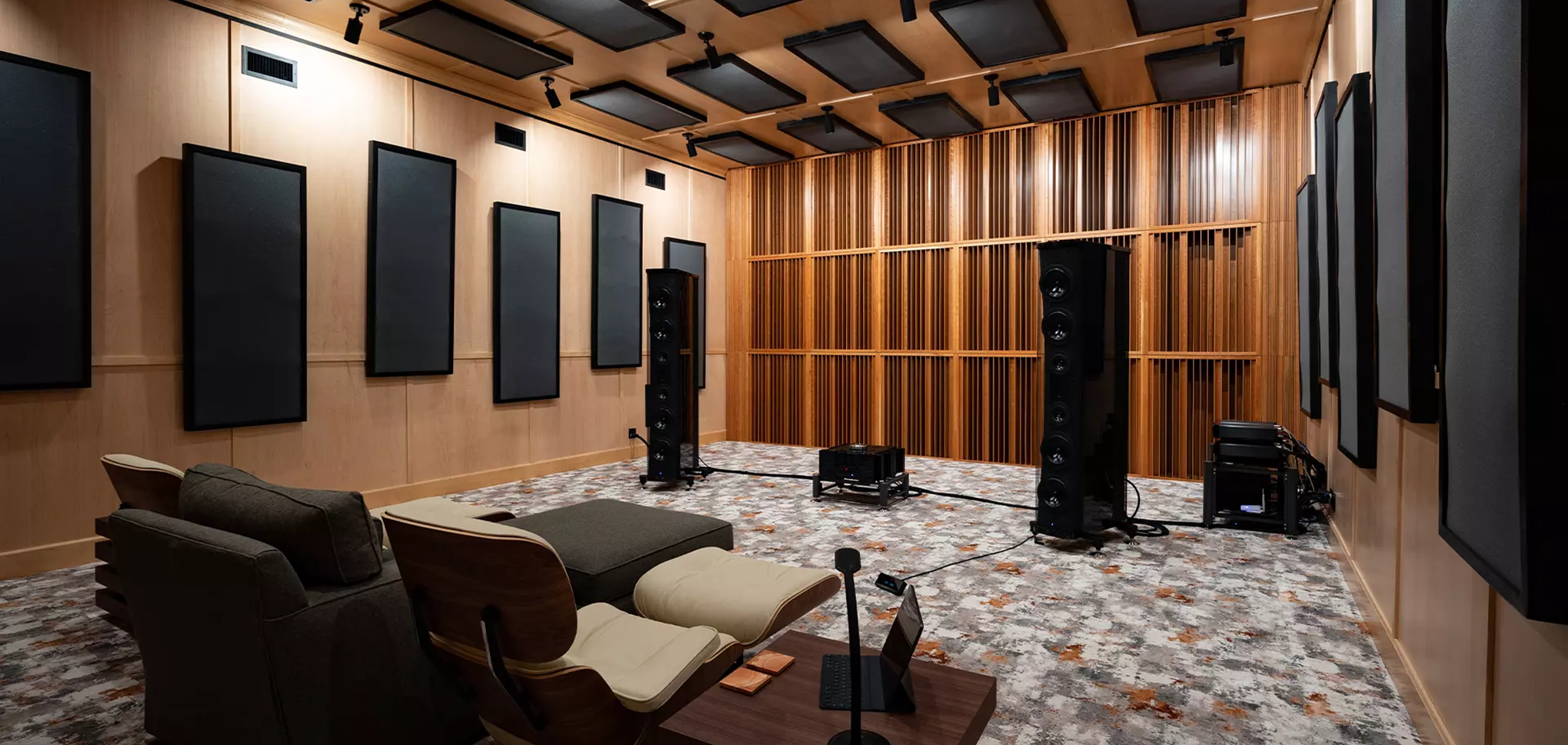 Acoustic Treatment
Acoustic treatments can include the use of acoustic panels, diffusers, bass traps, and other sound-absorbing materials to enhance audio clarity and create a more immersive experience.
Comfortable Seating
Options can range from plush sofas and recliners to dedicated home theater seating with features like cup holders, built-in recliners, and adjustable headrests.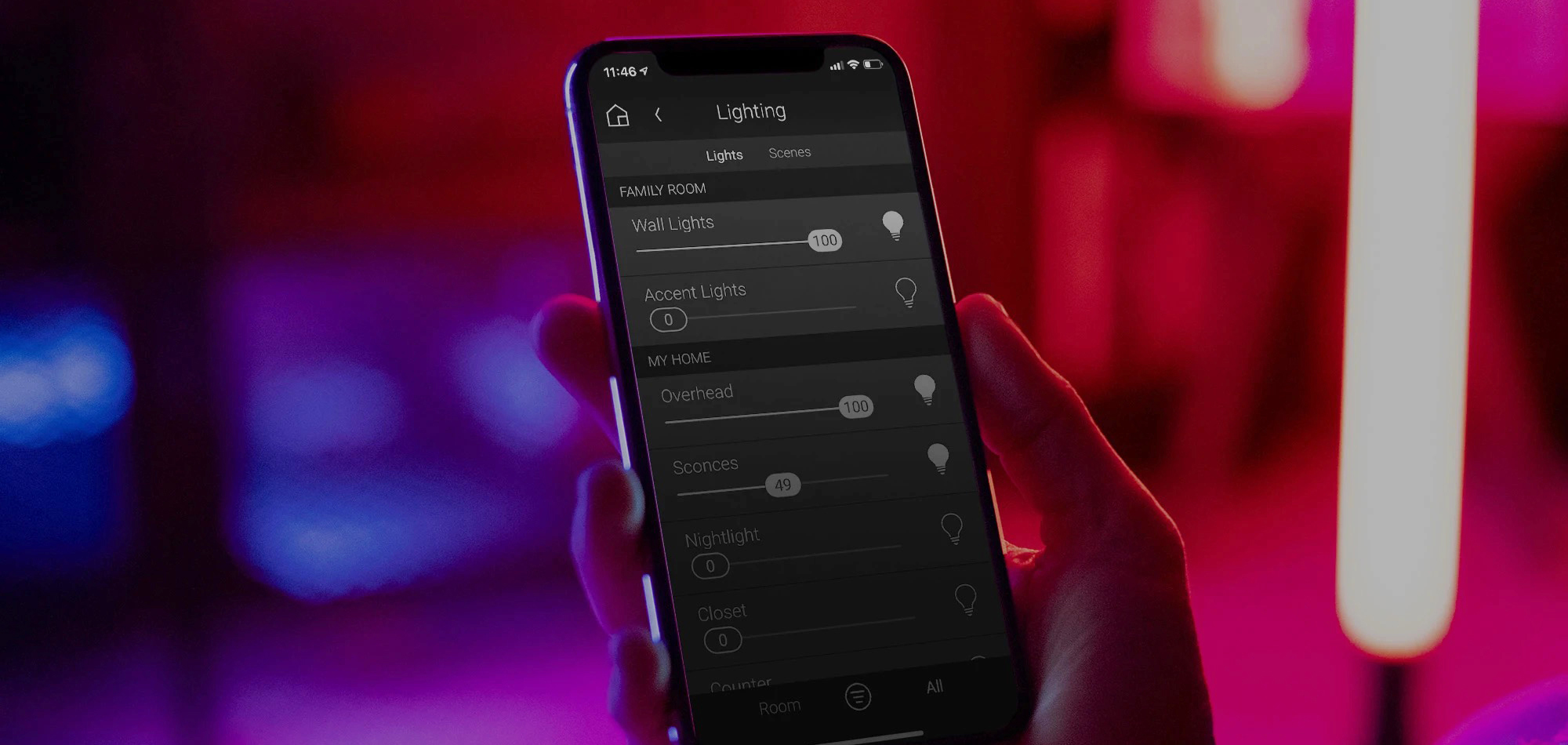 Lighting Control
Installing dimmable lights or automated lighting systems allows you to adjust the lighting levels to suit different activities and preferences. You can also consider blackout curtains or blinds to block out external light sources and minimize glare.
Media Sources & Streaming Devices
A home media room should have access to various media sources and streaming devices, including Blu-ray players, media servers, gaming consoles, streaming devices (e.g., Apple TV, Roku), or dedicated media players.
Streamlined media room control.
A professional media room installation includes an integrated control system that allows you to manage and control various aspects of your home media room seamlessly. With unlimited options, the system can include a universal remote control, a smart home hub, or a mobile app that centralizes control over audio, video, lighting, and other room features. This simplifies the operation of multiple devices and enhances the user experience, for example:
One tap from your smartphone, tablet, or easy-to-use remote dims the lights, closes the shades, and starts your TV.
Another touch starts the music, ignites the gas fireplace and dims the lights for a romantic evening alone or a cozy setting with friends.
You can even send HD video to any room in your home or watch video from many sources: Apple TVs, Roku boxes, media players, hard drives, portable devices.
A highly desirable part of this control system is that the system's brain is completely hidden and out-of-sight.
Professional, Experienced Media Room Design and Installation
Media rooms are where many of Lifetronic Systems' clients start converting their homes to smart technology. To get started with creating your own media room, we meet with you to discuss your vision and then customize a plan based on your personal preferences, available space, and budget. Working with a professional home media room installer ensures that the end result is designed and equipped to meet your specific requirements and provide an exceptional entertainment experience.

"Tomasz listened to our needs, gave us a number of options to consider and then set us up with an easy to use whole house integrated system consisting of superior quality equipment which was installed in a professional and timely manner that exceeded our expectations."
Chuck H.

"Big thanks to Tomasz and his team, who are very professional, personable, competent, and demonstrate outstanding knowledge of the latest technology. They set up an amazing wifi network and sonos system for me in less than a day."
Josh M.

"Tomasz and his team did a great job of shaking down the sound system at Saltwater Grille. They went through all of the cabling, connections, replaced all of the amps and installed multiple Sonos wireless music management systems. We now have more flexibility and better clarity than ever before."
Andy S.

"Tomasz listened to our needs, gave us a number of options to consider and then set us up with an easy to use whole house integrated system consisting of superior quality equipment which was installed in a professional and timely manner that exceeded our expectations."
Chuck H.

"We, like so many other families, have more devices these days and were experiencing so much frustration with poor connectivity. It is an issue that I'm sure many families experience in their home but are not really equipped to solve the problem themselves… Tomasz and his team came to our house and to our rescue! We now enjoy our music system without interruption, our devices are streaming better than ever…"
Tiziano F.

"Tomasz and his team were punctual, professional, courteous and immensely quiet and clean. They bore holes, pulled wires, installed speakers, multiple televisions and built a centralized media rack system to die for! The lighting system is phenomenal and all of the above are controlled by Control4. We would highly recommend Lifetronic Systems for any media needs, lighting and sound systems. We love my media room!!"
Tim K.

"We were doing a major renovation when I contractor asked if we were going to install an audio visual system and if we were we needed to do it in the next few days before the walls were closed. I called Lifetronics and the owner was there the next day, provided a detailed proposal and budget that evening and completed the installation within days and before the walls were closed. System has been terrific and the support and service outstanding. Would recommend them highly."
Arthur K.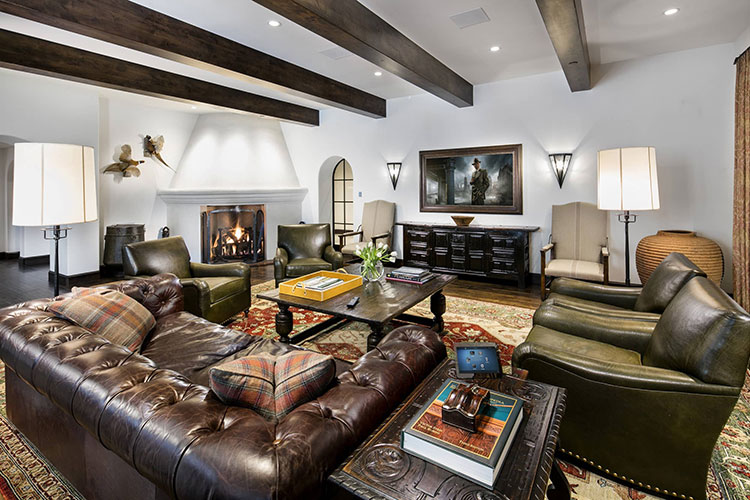 SMART HOME SOLUTIONS GUIDE
WHAT'S MOST IMPORTANT TO YOU?
LOCAL SMART HOME INSTALLATION SERVICES AREAS
Lifetronic Systems is located in Westport, CT, and services all of Fairfield County, CT, and Westchester County, NY, including: Westport, Weston, Wilton, Easton, Redding, Fairfield, New Canaan, Darien, Greenwich, Stamford and beyond. We also travel beyond Connecticut and New York upon request.
FIND THE RIGHT SOLUTION FOR YOUR HOME
Have questions about smart home technology or ready to start the conversation?