Smart home features used to be considered a luxury, and though they are still very luxurious, they've also become expected. Homeowners are adding features to their existing homes, while buyers are looking for them during the house hunt. Builders, architects and designer are ensuring that smart home features are in the plans to help increase the value of new homes.
There's a few things that everyone wants to know – what features will increase the value of a house the most? And what are potential buyers looking for? And which features are homeowners implementing into their own homes first?
You've come to the right place – let's have a look at the six most popular smart home features that buyers and homeowners want.
Temperature Control
Climate control became popular for homeowners and buyers because of energy purposes – it's extremely easy to control energy consumption (and utility bills!) with a smart thermostat. Don't need the air on while at work all day? Simply set the thermometer to automatically turn the air off when the last person leaves for the day and then have it kick back on about an hour before the first person gets home, so the house is nice and cool. The same thing can be done with the heat in the winter.
Though homeowners and buyers started asking for temperature controls to reduce energy usage and utility bills, the real value comes from comfort. There are countless luxuries to add to homes (many of which we'll go over today!), but nothing compares to the level of comfort when someone is at home. With the ability to adjust the temperature right from a smartphone or keypad, optimal level comfort is truly at a homeowner's fingertips.
Shade Control
Motorized window shades might not be the first thing that comes to mind when thinking of smart home features, but they are definitely something to consider as a homeowner or designer. Not only do motorized shades allow more lenience with the heating and air conditioning systems (letting in light can really warm up the house!), but every single shade in a home can be controlled right from a smartphone. Open all the shades from bed in the morning or shut just the shades in the baby's room when it's time for a nap. Motorized shades look pretty, are super functional, and simple as can be – a smart home feature not to be missed!
Whole Home Audio
Who wouldn't want clear, crisp sound in every room of their home? Buyers and homeowners love the idea that they can play their favorite music while making dinner in the kitchen at the same time their son is listening to his favorite Spotify playlist in his room – all through the same seamlessly integrated speaker system! And when it's time to serve dinner? Simply stop all the music with the single touch of a button.
Whole home audio is a feature that will be used every day, but really shines during a party. Set "party playlists" to come on right as guests arrive, and ensure that everyone, no matter which room they're in (even outside!) can hear the music.
There are many stylish speakers on the market that can be implemented in homes, but for those wanting to hide speakers completely, that can be done too! Unobtrusive speakers are placed into walls and ceilings, perfectly tilted for optimum listening. Guest will wonder where the amazing sound if coming from.
Lighting Control
Lighting controls are a dream – nothing beats turning the lights off while lying in bed – but they also offer a number of safety benefits that make them desirable to buyers and homeowners. No one likes feeling nervous walking into their own home late at night (especially if they forgot to leave the outside lights on!). When lighting controls are implemented, homeowners can turn their outside (and inside) lights on while still in their car, right from their phone. If little ones wake up a night? Smart motion detector lights will guide their way to the bathroom, so parents don't even need to get out of bed. And if an abnormal sound is heard in the middle of the night? Homeowners can simply press "panic" on their phone or keypad to light up the entire house and activate flashing lights outside.
Security & Surveillance
Security and surveillance are becoming a necessity to homeowners and buyers, and for good reason – there's nothing more important than keeping family safe. Smart home technology has taken security to a whole new level – fire alarms, burglar alarms, lights and even locks can all be implemented as one system that works together to ensure the safety of a home. Locks are touch screen or push button, which means homeowners have the ability to control them right from their devices or keypad. If someone needs to let the maintenance man in during the day while they're at work, it's as simple as unlocking the door when he arrives and locking it again once he leaves right through their phone.
The benefits of smart home security are endless – homeowners can arm the alarm system from their phone and receive a text alert when their child arrives safely home from school – just to name a few! Learn more about smart home security systems here.
Home Networking
A home wireless system is the backbone of the entire house. Because buyers and homeowners are asking for smart home features, they need super reliable WiFi to depend on. Smart home networking systems ensure that all wireless devices work together and that speed is lightning fast and security is at an all-time high. Parents are also given peace of mind – wireless systems have the ability to set parental controls, so parents can enjoy full access, while children are blocked.
There you have it! The six most popular smart home features that buyers are looking for in new homes and homeowners are implementing into existing homes. Every feature above can be professionally installed and programmed together, so that everything works on the same system and can be controlled by pressing a single button.
Whether you're a builder, architect or designer looking to work with a home automation partner to get your new homes up to par, or you're a homeowner who wants to add custom features into your own home, Lifetronic Systems can help. We provide smart home technology for homes and businesses in Connecticut, New York, and beyond.
Want more information on how to build Home Automation into your projects? Gain competitive advantage and increase the value of your properties.
[cta href="https://lifetronic.net/lp-architects-builders-designers/"]Click to Get The Professional's Guide to Home Automation[/cta]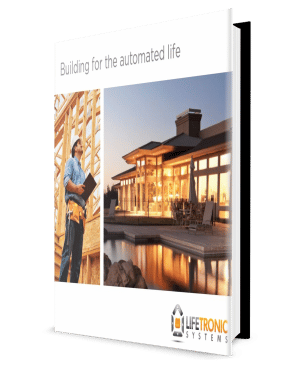 Ready to Get Started?
Contact us today to set up a free consultation, in your home or business.