Are you ready to create the ultimate entertainment room in your home? Home theaters have long been a sign of luxury living, but recently more and more homeowners are adding smart media rooms to their home. If you have the extra space, turning a room into a smart home theater or media room can be enjoyed by the entire family. Interior designers recommend using your existing living room, however many New Englanders opt to use their finished basements, as well.
Continue reading to learn the differences between the two room types and which room is best suited for your needs.
Smart Home Theater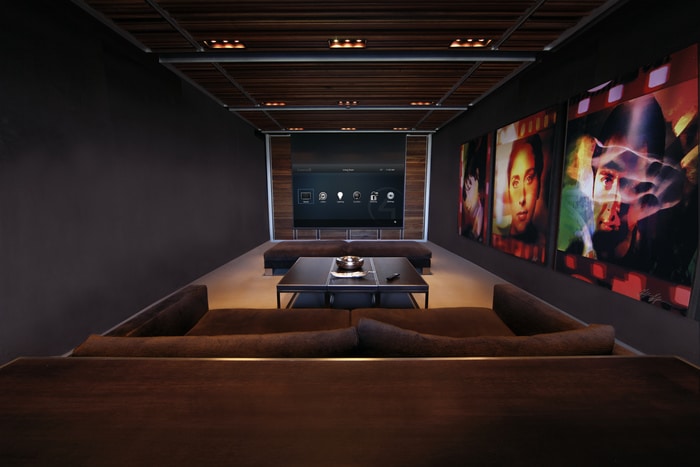 As you can imagine, a smart home theater brings the feel of a cinema experience to your home, just bring your own popcorn. The focal point to any proper theater room is the large TV screen accompanied by theater-style seating that's typically arranged in tiered rows. Add reclining seats to achieve a "wow factor."

For our smart home theater projects, we love using Samsung QLED 8K LED TVs. Its high-quality, sleek design has an amazing picture. However, if you're a perfectionist who enjoys the true movie theater experience and needs a screen that matches this quality, a high-performance 4K Vutec projection screen may be the right option for you. 

A smart home theater also comes complete with in-ceiling, surround sound speakers and subwoofers that are completely out of sight. A well-constructed home theater leaves no cords visible, a look achieved by customizing the installation for each home's specific layout. 

While both rooms boast ambient lighting that fits seamlessly into the room, a smart home theater is often designed using cinematic lighting which features a one-touch light dimming capability. 
Smart Media Room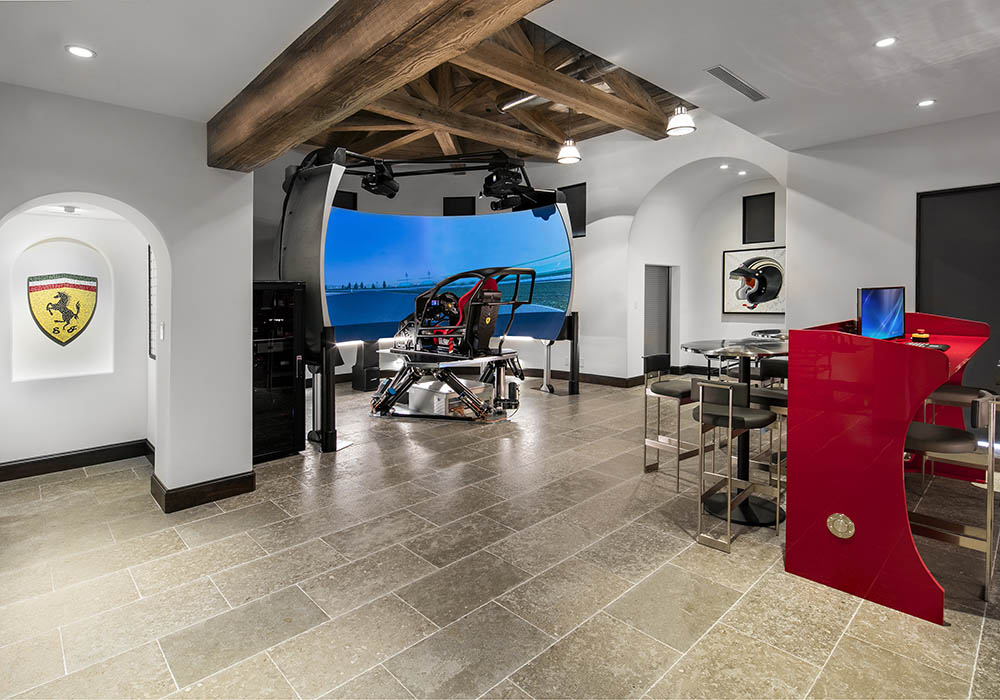 Think of a smart media room as your space for the most social activities, where all games and hobbies can be enjoyed; everything from playing a game of pool or foosball to classic arcade games. You can even incorporate a child's play area in this room so that every family member is included. It's a multi-use space area that's set up for entertainment. Typically, this room features comfortable, cozy seating or lounges that are ideal for gathering. Unlike a smart movie theater that utilizes cinema-like seating, this room setup is conducive for social interaction among guests.

Both of these rooms feature smart lighting options, with a few differences. In a media room, there are many options for smart lighting: dim for movie and TV watching, brighter for playing games and subtle for a bar-like setting. Each media room activity can be programmed via smart lighting technology so it's always the ideal ambiance. 
What is the Difference Between a Smart Home Theater and a Smart Media Room?
The main difference between these two rooms is that the media room has space for more options and can be highly customizable. Media rooms are versatile spaces and their design often mirrors the hobbies and interests of the homeowner. For example, we've created all types of media room design themes, from Hollywood Inspired to Ferrari themed, we've seen it all!
A smart home theater is dedicated to TV viewing and boasts the optimal movie-watching experience. Whereas, a media room is less specialized and can be made into any lounge area. 
While a smart media room leaves more personalization, both of these spaces can express the homeowner's personal style and be customized with a theme. 
Which Room Is Right for You? 
Choosing the right space for your home is truly a personal decision that depends on how you'd like to use the space, your budget and home's compatibility. If you're a homeowner who loves playing games and entertaining, a smart media room may be the option for you. Media rooms are appealing to homebuyers since they are traditionally less expensive than adding a dedicated theater room.
If you're an avid TV binger, movie buff or gamer, you may want to stay with the classic home theater option. 
We Can Help 
At Lifetronic Systems, Newport, CT, we are experts at designing and installing custom rooms that are highly unique and personalized. If you'd like to learn more, please contact us today.