Technologies For Houses Of Worship
Technology Solutions for Places of Worship, from Security & Surveillance to Streaming Services
Place Of Worship Automation Systems
Places of worship support a welcoming, open environment where all members of the community can join together. In such sacred spaces, it would be nice to think that security and surveillance systems are not needed, but this is simply not the case. Because places of worship are often easily accessible and have an open-door policy, these spaces are often perceived as easy targets, vulnerable to outside threats such as break-ins, theft and vandalism. Surveillance, security and technologies for houses of worship offer increased protection of their property and congregation.
Lifetronic Systems serves all types of religious institutions, including churches, synagogues, temples, worship halls and more. Click below to view our services: 
Surveillance and Security for Places of Worship
An off-premise, 24/7 security monitoring system is critical for protecting your place of worship against burglary and fire. Alarms and sensors are expertly installed on all windows and doors so your organization is well-protected. After hours, your security alarm is enabled so that if any break-ins occur, the authorities are notified within seconds, which could mean the difference between a minor or a major loss.
And of course, this system is available utilizing the latest in smart technology. With smart technology, locks are touch screen or push button and fully integrated so you control them from any web-enabled device. For those in charge of locking up, they'll never have to retrace their steps to confirm if the alarm was set or front door locked. Fire and burglar alarms, locks and lights are also fully integrated into the hub of your tech-savvy place of worship, keeping you protected and secure every day and night of the year.
Video Surveillance that is Always Watching
Whether your organization is small and traditional or has a large following with a modern approach, having high-quality security cameras installed are vital for protection. Installing professional HD security cameras provide a high-resolution video recording for you to monitor and access at any time.
In addition, video analytics software for security cameras provides an easy-to-review and less time-consuming way of monitoring your video surveillance footage. Video analytics software can be installed on cameras, on the NVR or as a third-party software. This software helps places of worship review their footage so it's less overwhelming. Instead of having to manually monitor video footage, this software automatically reviews your videos and can be programmed to detect motion during specific times, for example, when the building is closed to the public, and alert you if anything is detected via email.
Video surveillance is expertly placed in areas of vulnerability, such as parking lots, entries and exits, classrooms and offices. Whatever the incident may be, security footage captured via video camera can provide an account of what happened and make it easier for law enforcement to intervene.
Maintaining the utmost security at your organization provides a sense of safety to the congregation, including parents. Video cameras can monitor children's areas, such as a classroom or playground, to assure all children are accounted for and no one is trespassing in the area.
If your security alarm is alerted in the middle of the night, you'll have remote access to check in on the situation from your video surveillance system. This can all be accessed through an app on your phone. When properly used together, security systems and video surveillance take the safety of your religious organization to a more secure and comfortable level.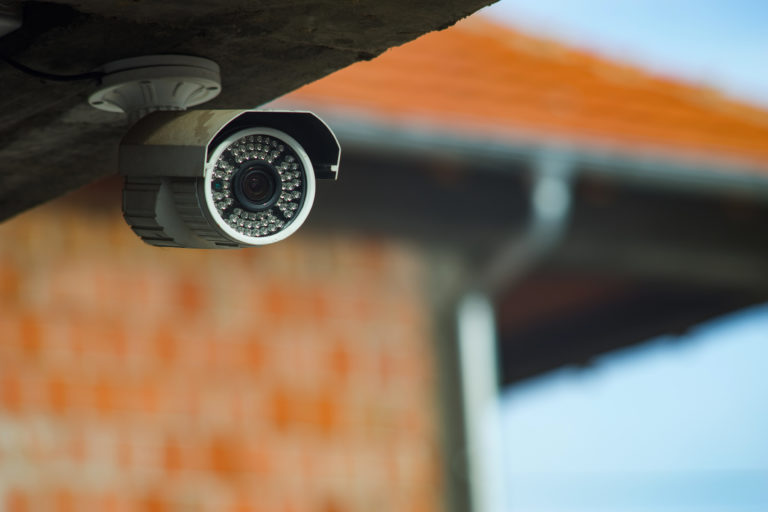 Commercial Access Control Systems
Access control systems are ideal for church-like settings. These systems can secure your church remotely at any time of day and have many advantages over using traditional lock and keys. A fob, pass card, fingerprint or face recognition (based on your preference) can be used to record who is entering and exiting the building and at what time.
In addition, each pass card can be individually encoded so administration can control who can enter, the time they can enter and rooms they can access. Another advantage of commercial access control systems versus having a lock and key is that if a pass card goes missing or is stolen, it can be remotely deactivated.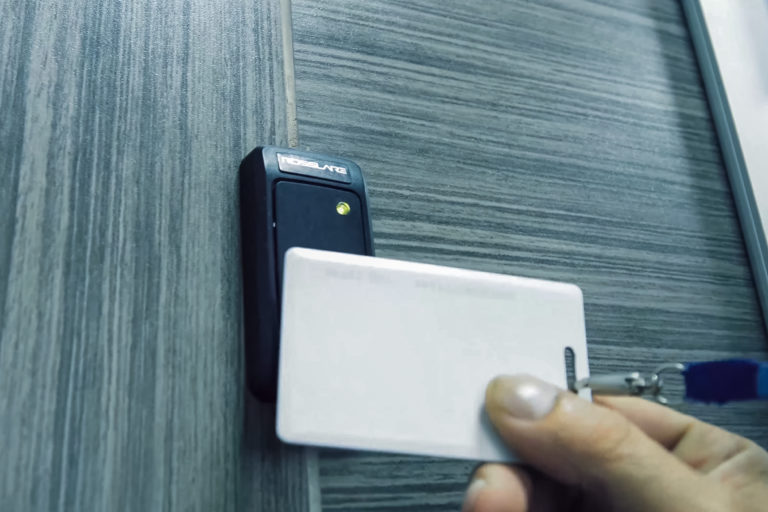 Creating a Secure Place of Worship
It's a staggering fact: commercial buildings without any visible signs of an alarm or surveillance system are 300% more likely to be broken into or vandalized. Adding a professional security and surveillance system helps to deter your religious organization from becoming a target.
While having these systems visible on the outside of the building to help avert trouble is key, the security system inside the church can be concealed. This discretion ensures that your place of worship still feels like a sacred place, free of any unsightly wires and cameras, and does not remind attendees that they are being monitored.
Hiring an expert in the field of security and surveillance is key, as installation, especially in a building that contains vaulted ceilings, arches and stained glass, can be challenging. When professionally installed, the security and surveillance system inside your organization will be out of sight. A professional will survey your religious organization for any areas that are especially susceptible to theft or break-in and create a tailored security solution for your needs.
A properly installed church video surveillance and security system creates a safer, more secure environment for religious organizations and the people they serve.
Case Study: Security and Surveillance System for Westport, CT Synagogue
Client
Synagogue and non-profit Jewish outreach organization located in Westport, CT
The Problem
With acts of violence to synagogues and other places of worship on the rise, this client wanted to enhance security measures to provide a safe space for the community to gather. The goal was to install security and surveillance that would operate 24/7 and deter or monitor break-ins, fire or acts of violence. The synagogue partnered with Lifetronic Systems to design a custom security and surveillance system to keep members safe as well as their property.
Solution
After consulting with the client and visiting the site, Lifetronic Systems designed a custom security and surveillance solution based on their unique needs and delivered:
An enterprise-grade wired and wireless network system to cover the entire building with a fast AC standard Internet




7 indoor and 22 outdoor cameras complete with high definition IP surveillance




UPS power backup for network and automation system




Commercial-grade fire alarm system in accordance with Connecticut code

Professional security alarm system with smartphone integration for local and remote access

Commercial access control system installed including control locks, pass cards and readers




iPhone, iPad, PC and Mac computer integration with the new wireless network, multiroom music, TV, and automation system




Install an access control system with proximity card readers, exit motion and manual exist buttons for 4 entrance doors
The Result
Lifetronic Systems successfully delivered a state-of-the-art surveillance and security system that the synagogue members and staff can count on. All updated systems are at work 24/7 to monitor the safety and security inside and outside of the building. As a result, attendees can now feel secure knowing they attend a place of worship that follows the latest in security protocols.
Audio Visual Solutions for Places of Worship
The need for technology is growing all around us; even in churches and places of worship, these landmark institutions are upgrading and becoming more modern. These pillars of communities are replacing existing technology with state-of-the-art audio and visual solutions to allow you to clearly communicate and effectively reach the congregation. Discover how places of worship and churches are adapting their technology to enhance their presence in the community.
Video Projection Screens for Churches and Places of Worship
Projection screens create a larger viewing area than a TV screen and deliver a clean and crisp resolution. Better yet, video projection screens are motorized so they are only visible when in use. These motorized screens feature a whisper-quiet motor that won't disturb your members when it's being put away during service.
A video projector for churches and places of worship are used for:
Displaying song lyrics, prayer verses and scripture

Image magnification

Presenting information during special events
The high-contrast material that's used on projection screens is ideal in church-like settings, where the room lighting is often difficult to control. Plus, there's no worry about light shining through stained glass or high windows when using a quality system. For example, our video projection screens deliver peak performance in challenging ambient light applications and reduce glare by automatically enhancing black levels.
Church Video Streaming Services
Uncontrollable situations like bad weather or sickness can discourage even your most loyal members to stay home and miss your service. This is why more and more churches and religious organizations are turning to Facebook Live to deliver their message. Facebook Live is an effective tool for reaching a larger audience, maybe even those who are not local to the church but want to connect.
Plus, all Facebook Live streams are automatically recorded, giving you a catalog of all past and current religious services. This allows potential members to be inspired by your message before even stepping foot into your place of worship. A growing number of people are attending religious services via Facebook Live, making it wise to leverage this effective tool to reach more members and grow your congregation.
In addition to Facebook Live, you can add recorded video to your congregation's website. After the service is recorded, it can be embedded into your website which creates an engaging opportunity to reach more members. Think of those traveling, in the military or homebound that want to attend, but cannot.
A high-definition video streaming system has it all. During installation, pan-tilt-zoom cameras will be installed so you can easily zoom, center and control your video. High-definition TVs can be used to live stream your service in certain areas of the building (such as the café, entrance halls, administrative offices, etc.).
Whole Building WiFi System
The key to making all digital components work seamlessly is having a whole building WiFi system that supports your investment. Even if your organization is outfitted with the best in class technology, having an outdated WiFi network can slow everything down, or even worse, disable it from working. Our Network WiFi installations provide better coverage with fewer access points (hardware device that allows other Wi-Fi devices to easily connect) so you won't have to worry about overloading your network.
What to expect with your custom WiFi System:
Advanced WiFi security

Optimum signal strength

Massive scalability

Full building coverage free of any 'dead zones'

Video streaming without interruption
Does your place of worship have an app? More and more religious organizations are using apps to stay connected to their followers. If you're encouraging members to download an app, having a secure WiFi connection is critical.
If you're experiencing, poor or unreliable WiFi coverage for guests and staff without network security, it's time to consider adding a high-performance, secure WiFi network to your place of worship. Maintaining a fast, reliable Internet connection is no longer a luxury. It is a utility and a requirement for your religious organization to offer.
Case Study: State-of-the-Art Video Streaming System for Southport, CT Church
Client
Church located in historic Southport Village, CT
The Problem
To reach more members of the congregation, this church wanted to create a channel to connect and engage with current and prospective audience members. The church turned to Lifetronic Systems to create an advanced video streaming system that is simple enough for church members to use yet advanced enough that it can create a high-quality production.
Solution
After undergoing a consultation with the client and prioritizing their objectives, Lifetronic Systems designed a custom video production system that included:

A high definition video streaming system with 3 pan tilt zoom cameras, control center and monitor

vMix Software Video Mixer and Switcher for HD video mixing

2 Samsung Frame TV installations to display video in the entrance hall

Training for Facebook Live streaming and video embedding to the website
The Result
Lifetronic Systems delivered an advanced video streaming system that the new Southport, CT church can use for years to come. After successfully installing the new video system, the team at Lifetronic System's trained church administration members on how to live stream and embed their church services on their website. The result is an advanced video system that enables them to spread the message of the church.

"Tomasz listened to our needs, gave us a number of options to consider and then set us up with an easy to use whole house integrated system consisting of superior quality equipment which was installed in a professional and timely manner that exceeded our expectations."
Chuck H.

"Big thanks to Tomasz and his team, who are very professional, personable, competent, and demonstrate outstanding knowledge of the latest technology. They set up an amazing wifi network and sonos system for me in less than a day."
Josh M.

"Tomasz and his team did a great job of shaking down the sound system at Saltwater Grille. They went through all of the cabling, connections, replaced all of the amps and installed multiple Sonos wireless music management systems. We now have more flexibility and better clarity than ever before."
Andy S.

"Tomasz listened to our needs, gave us a number of options to consider and then set us up with an easy to use whole house integrated system consisting of superior quality equipment which was installed in a professional and timely manner that exceeded our expectations."
Chuck H.

"We, like so many other families, have more devices these days and were experiencing so much frustration with poor connectivity. It is an issue that I'm sure many families experience in their home but are not really equipped to solve the problem themselves… Tomasz and his team came to our house and to our rescue! We now enjoy our music system without interruption, our devices are streaming better than ever…"
Tiziano F.

"Tomasz and his team were punctual, professional, courteous and immensely quiet and clean. They bore holes, pulled wires, installed speakers, multiple televisions and built a centralized media rack system to die for! The lighting system is phenomenal and all of the above are controlled by Control4. We would highly recommend Lifetronic Systems for any media needs, lighting and sound systems. We love my media room!!"
Tim K.

"We were doing a major renovation when I contractor asked if we were going to install an audio visual system and if we were we needed to do it in the next few days before the walls were closed. I called Lifetronics and the owner was there the next day, provided a detailed proposal and budget that evening and completed the installation within days and before the walls were closed. System has been terrific and the support and service outstanding. Would recommend them highly."
Arthur K.
LOCAL SMART HOME INSTALLATION SERVICES AREAS
Lifetronic Systems is located in Westport, CT, and services all of Fairfield County, CT, and Westchester County, NY, including: Westport, Weston, Wilton, Easton, Redding, Fairfield, New Canaan, Darien, Greenwich, Stamford and beyond. We also travel beyond Connecticut and New York upon request.
FIND THE RIGHT SOLUTION FOR YOUR PLACE OF WORSHIP
Have questions about smart technology or ready to start the conversation?