We hear many misconceptions about the differences between whole home automation also known as a "Smart Home" and smart home devices like Alexa, Nest, and Google. If you think you can get a smart home by purchasing a device on Amazon or Best Buy, you might want to read on.
What is Whole Home Automation (Smart Home)?
Whole home automation, refers to a home with appliances, lighting, air-conditioning, TVs, computers, security, cameras and entertainment systems that can all communicate with each other through hardware, software, and the Internet. By using sensors, software, and interfaces that work to integrate electrical devices with one another whole home automation can control every electrical appliance or system in your home. Devices can monitor whether or not your basement is flooding, your washing machine has overflowed, if the garage, windows, or doors are open or unlocked, or if you've had a package delivery. You can see if your children or pets are inside, or out, preheat your oven, start dinner, water your lawn, cue a movie for watching, open or draw your curtains, or turn on the fireplace or air-conditioning depending on the weather. A whole-home automation system can do all this automatically, or manually if you prefer.
Think of a smart home as a virtual home guardian and caretaker with a passion for saving you time and money. Whole home automation not only provides homeowners comfort, security, and convenience, regardless of whether anyone is home, its systems can be controlled from any location in the world by phone or internet.
What is a Smart Home Device?
A smart home device is a product that operates alone, or sometimes with another appliance or product that allows you to control your lighting, thermostat, or even a bowl that lets you feed your pets from your smartphone. Smart home devices include products like Amazon Echo, Alexa, Nest, Google Home, HugOne (which lets you monitor your child's sleep), or smart doorbells. These devices can control an appliance, or allow you to watch a specific activity, or access information, music, entertainment, etc. from your smartphone or tablet. They aren't necessarily connected to other devices, let alone a whole home system, although they can be. Just because you have smart devices that allow you to monitor, control, or watch things in your home or from a distance, doesn't mean you have a smart home. They may make life more convenient in some way, but they don't necessarily reduce your day-to-day costs, connect seamlessly to one another, or make your home more efficient overall.
Why Should I Consider a Smart Home or Device?
Smart homes are first and foremost, a matter of ease, convenience, and efficiency for their owners. Secondly, they're a strong source for the conservation of the earth's limited resources. By making your home truly smart through utilizing home controllers for your power, water, electric, irrigation and temperature control, you not only increase savings, but you control your consumption, helping reduce demand on resources. Smart homes and devices both allow you to reduce the amount of time, effort, and money you now spend maintaining or monitoring your home.
If you have an elderly parent, children, or travel frequently, a smart home allows you to monitor what's happening in the home from wherever you age.  If you are older and struggle to remember things, or to keep up with your home's systems, having a smart home controlled in a centralized system is a tremendous convenience.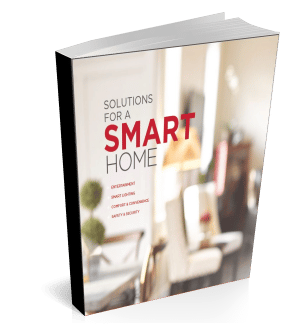 What's Best for Me?
The best automated homes are the ones where owners think about their lifestyle, needs, and budgets and grow their systems deliberately. If you have questions about what automation systems could work for you, contact us to setup a free consultation or Download the Smart Home Guide