Thinking about installing a smart home theater in your Connecticut home? With a smart home theater system, you can experience the joy of theater-level entertainment in the comfort of your own home (and save money on movie tickets and popcorn!)
Anyone who has checked out smart home theaters can tell you, they come with a ton of incredible features. The seamless integration into the rest of a smart home is especially impressive with mirror TVs, art TVs or a large projection screen. With a smart home integration, the lighting can perfectly dim when it's show time.
Our favorite feature, without a doubt, is the immersive audio experience. The unbeatable quality of sound makes you feel like you're inside the movie. It's that good.
What is a Smart Home Theater System?
To help explain what a smart home theater system is, it's easier to first describe what is not "smart." A smart home theater system is not a pre-packaged system that you purchase and setup out of a box. It's not a system made up of separate components that may or may not work with the rest of your media devices. It is not a "one size fits all" solution. After all, every living room is different, and your home theater should be tailored specifically for its layout, size and current media devices.
A smart home theater is a fully integrated and customized system that smoothly assimilates into the room.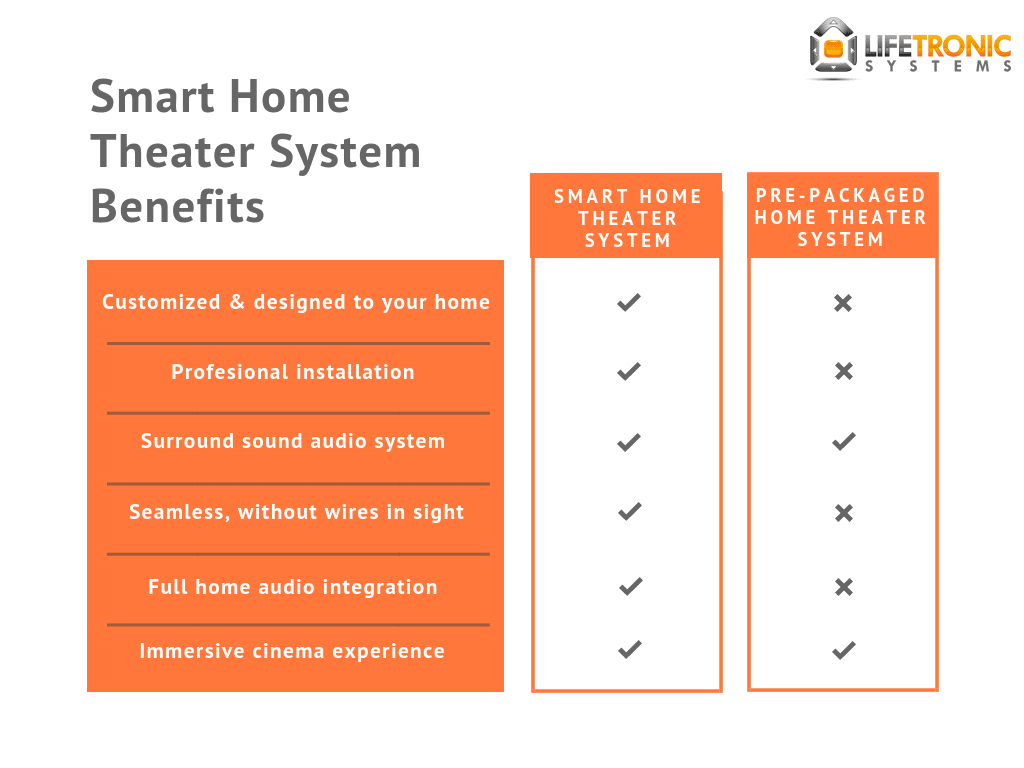 One smart home theater feature that many homeowners enjoy is the ability to 'hide' unsightly cables and wires. Speakers are hidden inside your home's walls or ceiling, out of sight and out of mind. We collaborate with architects and interior designers to ensure that every installation is aesthetically pleasing and functional for the homeowner. No more guessing where the studs are or putting holes where they shouldn't be to "hardwire" your electronic devices.
Smart Home Theater Features You'll Love
A smart home theater assimilates to your whole home automation flawlessly. Smart home theaters serve a prime example of smart home orchestration. Here are some of our favorite smart features that can be combined in your theater.
Smart Lighting
Movie on, lights off! Just like at a movie theater, when the movie begins, the lights dim. Since this is fully-connected automation, it all syncs for your movie-watching experience. One tap from your smartphone, tablet or connected remote and it will dim the lights, close the shades and turn on the TV or projection screen.
Smart Shading
Don't worry about the glare on the TV or "dead spot" on your projector screen, it won't be there with a smart home theater! Smart shading solutions are not just a great feature for the summertime, they're perfect for blocking out natural light. Again, this is all incorporated into your home automation system and can be customized for whenever you turn the TV off or on.
Smart Thermostat
Create the right temperature for your home theater with automation. As soon you hit 'play,' the temperature can be set to drop slightly, so you're able to snuggle up during a movie or TV show. The best part: it's fully automated to reset to your normal temperature after the movie is over.
Audio for Your Connecticut Smart Home Theater
A smart home theater creates an unforgettable movie-watching experience. With TV streaming services like Netflix, Hulu, Amazon Prime and HBO GO, is there ever a reason to leave home? Well, maybe to reload on snacks.
In New England's cold winter months, a smart home theater comes in great use. Instead of having to bundle up and fight the freezing temperatures, you can stay at home and enjoy. Your children will love it, too! Playing video games and singing karaoke are reasons they'll look forward to staying in.
Our high-quality speakers are designed to keep the audio's integrity and create crystal clear sound. Our smart home theaters are installed to be seamless in your home. Optimal sound is produced without a bulky speaker in sight. Other smart devices that are in the market are simply installed in a wall or ceiling, do not measure up to a smart home system. Going with a "knock-off" device will not create the same audio effect for your home. 
Installation for Your Connecticut Smart Home Theater
Our process is simple: we listen and learn from you. Based on your lifestyle, goals for a room and desired aesthetic, we go through the design phase and create a detailed, custom plan for your home. Whether you'd like to start off with a smart home theater system or integrate your entire property with audio control, Lifetronic Systems has the experience and expertise to deliver.
To request a free quote, contact us today.