The largest Control4 update is here. The Control4 OS 3 is officially released and comes with major upgrades for an enhanced smart home experience. This new upgrade is jam-packed with more than a thousand new product upgrades, including a refined home screen, faster connectivity and new personalization capabilities. Continue reading to discover which upgrades we're most excited about!
New User Interface Offers a More Personalized Experience
One reason we love the Control4 brand is their ability to constantly evolve and deliver an improved user experience with each update.
A prime example is the OS 3 upgraded user interface which allows users to create an entirely new dashboard that's highly customizable. With the OS 3 version, you can add your personal 'Favorite' icons to the dashboard, so that your most-used applications are readily available. Just like a smartphone, all your icons can be dragged and dropped wherever you see fit. This means fewer taps to get what you need.
The platform also features a new, personalized imagery for custom wallpapers. You won't have to worry about technology appearing 'cold' on your walls; you can switch between family (or puppy) photos, digital clocks and even designer approved wallpapers that match the aesthetic of your home.
Status Updates Keep Home Security Top of Mind
Uh oh. Did you forget to close the garage door after leaving for work this morning?
What about the patio door you accidentally left unlocked before a family vacation?
Worrying about home security after you've left home is common. Luckily, with Control4 OS 3, you can put these thoughts into action with its new "status update." This recent feature details the ins-and-outs of your home. You can view your home's status, such as its security system, smart door locks, smart shading, lighting and more from your smart device. If you've left a door or window unlocked, the OS 3 makes it easy to secure.
Enhanced Entertainment Control
Say "Goodbye" to Control4's 'Zones' and say hello to the 'Media Sessions' platform.  
Unlike the OS 2, OS 3 grants multi-room control. This allows you to adjust video and audio functions remotely. With this entertainment update, you can view the music or videos playing in each room and adjust the volume. Whether you're a homeowner with small children or simply want enhanced user-friendliness over your devices, you'll enjoy this new level of control.
You'll also gain access to higher quality audio that supports Mater Quality Authenticated tunes, which can be natively-streamed through services such as TIDAL, Deezer and Pandora. Music streamed through the OS 3 includes high-resolution album artwork and allows for faster volume adjustment.
New Security Camera Controls
Control4 OS 3 delivers more robust security measures for your home. Now you can easily swipe left or right to switch from camera to camera on any device. Smartphones or tablets can also receive pop-up warnings so that you can proactively see if there's a security threat in your home. For example, the OS 3 will alert you if any rooms are left unlocked after you leave your house. Plus, it's all seamlessly accessed from a single screen on your device.
Optimized Thermostat & Temperature Control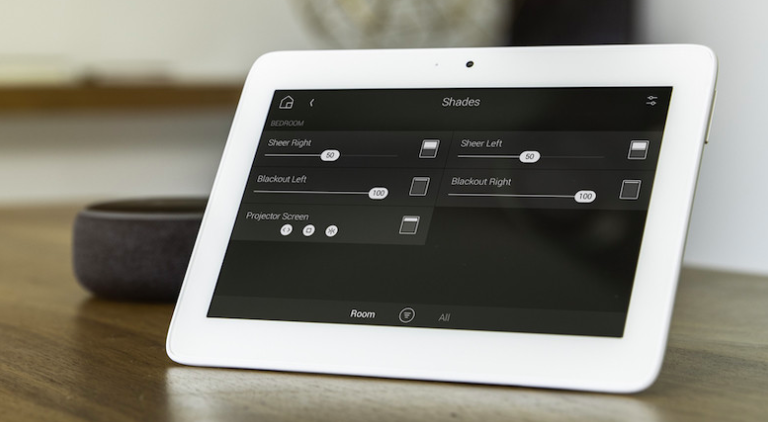 Use the Control4 'Comfort' screen to view outdoor conditions, including temperature, humidity and weather outlook. This does more than help you plan your outfit, it helps optimize your indoor settings. The new user interface lets you add or remove thermostat control from any room of the home. This is one of those "pay-for-itself" home improvements if you have family members who are prone to messing with your temperature settings.  
Control4 OS 3 is not only easier and faster to use, but it also comes loaded with new features that allow homeowners to better utilize their smart home. Are you ready to see this new update for yourself? If you're interested in Control4 technology, contact us here to learn more.